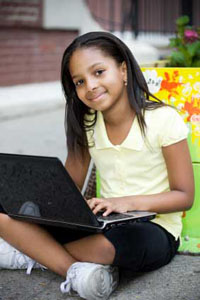 Modern digital cameras, and film cameras, take care of the technical details for us, but because of this, rather than in spite of it, our brains are lulled into non-thinking, automatic mode, we think the camera is going to do it all for us. Our classes will teach you how to control your camera so it takes the photo the way you see it in your imagination.
We have asked Stephan Isom a Phoenix area graphic artist to find us three kids to help us get the message out about DVA. I would like you to meet our crew of Lenz Cap, Flash and Digit. They are at the top of the pages and will be with us to make things happen.
DVA owner, Barney Hilton Murray teaches Digital Media Arts at a local charter school and holds a Level One fingerprint clearance with the State of Arizona Department of Public Safety.

Digital Vision Academy is currently holding class on the campus of Eastpointe High School. For more information call DVA at (520) 390-4723. For directions click here.